Patrol Car Involved In Crash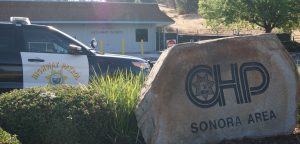 Sonora CHP Unit

View Photos
Jamestown, CA — A CHP officer assisting with a solo vehicle crash on Highway 120 became a victim of a subsequent wreck.
The accident happened just before 9 p.m. on Sunday in the four-lane section of the highway, west of Green Springs Road. The CHP officer was sitting behind the wheel of his patrol car on the eastbound shoulder of the roadway when a vehicle came smashing into the vehicle.
The CHP reports 21-year-old Omar Allan of Burlingame, California driving a 2009 Toyota Camry was exiting a curve and lost control off the car. The Toyota went into a spin and struck the rear of the patrol car, then smashed into an embankment, rolling over onto its roof. Officer Nick Norton explains, "Allan was traveling at an unsafe speed for conditions as it was raining. We are looking at tens of thousands of dollars of damage to the patrol car."
A passenger in Allan's car, 20-year-old Kamron Talai of Mountain View, California suffered minor injuries including small cuts on his left hand and arm but refused treatment. Allan was not injured. The CHP officer complained of back pain. He was back on the job today, according to Norton, who says that drugs and alcohol were not a factor in the crash.