Robbery At Sonora Burger King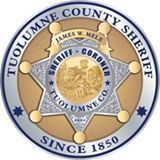 Tuolumne County Sheriff's Dept. logo

View Photos
Sonora, CA — The Tuolumne County Sheriff's Office reports that a man robbed the Burger King on Mono Way and got away with $200.
It happened at 7:50pm on Sunday evening. The Sheriff's Office reports that a man entered through the front door, rushed to the counter with one hand on his pocket, and demanded cash. No weapon was displayed. As the employee opened up the cash register, the robber jumped over the counter and put money into a plastic bag. The robber also demanded that the safe be opened, but the employee told the suspect he did not have access to it. The suspect then demanded cash from the drive-thru register.
As customers started to enter the restaurant, the robber left and ran down the alley behind Taco Bell. The man is described to be Caucasian, in his late 20's to early 30's, taller frame, with blue eyes. He was wearing a black beanie, black shirt, black sweatshirt, black pants and a camouflage bandana across his face. The deputies canvased the area and were unable to locate the man. Video surveillance will be reviewed for further investigation.
Anyone with information should call the Tuolumne County Sheriff's Office at 209-533-5815.