Update: Flash Flood Watch For Local Fire Burn Areas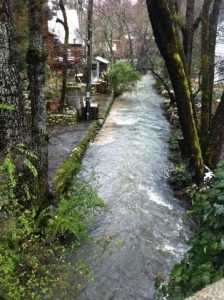 Murphy's Creek

View Photos
The National Weather Service has issued a Flash Flood Watch for the Butte and Rim Fire burn areas in Calaveras, Tuolumne and Mariposa Counties through this afternoon.
Rainfall rates may exceed flash flood debris flow criteria with storm total rainfall of three to six inches. Rainfall rates could exceed a half inch per hour at times.
Anyone living or traveling on roads in the Butte and Rim Fire burn areas should be alert for probable road problems due to flooding, rock and debris flows.
Large portions of the area have been severely burned. These areas no longer absorb any rainfall, which can lead to enhanced runoff and possible debris flows.
This is part of a series of strong storms that will bring heavy snow to the Sierra Nevada this week.
Additionally, a Winter Storm Warning remains in effect for the Sierra Nevada above 7000 feet, until 4 PM.
Snow levels are above 6000 feet.
Total snow accumulations of ten inches to three feet is expected above 7000 feet.
Winds of thirty to forty mph will continue with gusts up to sixty-five mph.
A Flash Flood Watch for a burn area means that conditions, including the formation of thunderstorms, may develop that could generate heavy rainfall rates. Heavy rainfall rates over recent burn areas could lead to flash floods, rock slides and/or debris flows. This is a heads up product – be prepared to take action.
A Winter Storm Warning means severe winter weather conditions are expected or occurring. Significant amounts of snow are forecast that will make travel dangerous. Only travel in an emergency. If you must travel, keep an extra flashlight, food and water in your vehicle in case of an emergency.