Unifying Butte Fire Recovery Efforts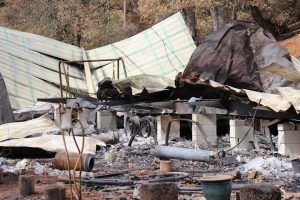 Butte Fire Recovery Debris Removal

View Photos
Mountain Ranch, CA – A proposal involving three Mother Lode community foundations to work together on recovery efforts for Butte Fire survivors and possible future disasters is in the works.
Plans are underway for a meeting between the Calaveras, Amador and Sonora Area foundations to combine their disaster relief efforts, according to Susan Galvan, with the non-profit Calaveras Recovers, which helped to facilitate the meeting. She outlines the discussion explaining, "The executive Directors of the three foundations will be getting together to begin a conversation about how they can support the entire Mother Lode community in the event of a disaster, including the current disaster in Calaveras County [Butte Fire]. How they can exchange ideas and resources, whatever is needed, both in this event and perhaps going forward in future events."
Galvan says that Calaveras Recovers, an all-volunteer group of local leaders and umbrellaed under the Amador Community Foundation, was created in the wake of the deadly Butte Fire to address the long-term recovery needs related to destroyed homes.
As previously reported, the Calaveras Community Foundation has received monetary donations from other foundations. Galvan says the hope is that the meeting will take place in January. However, no exact date has been set as of yet.
For more information on Calaveras Recovers, click here.