Rollover Crash Near Columbia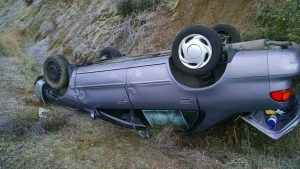 Parrotts Ferry Bridge crash

View Photos
Columbia, CA — The CHP reports a solo wreck on Parrotts Ferry Road heading into Columbia caused traffic to back up.
The crash happened at 7:40 a.m. Wednesday just on the Tuolumne County side of the Parrotts Ferry Bridge.  The CHP reports an elderly man driving a 1998 Toyota Corolla lost control of the car on black ice. Officer Nick Norton says, "The car went up an embankment, overturned and landed on its roof on the shoulder. He was driving too fast for the roadway conditions. This time of year everybody needs to be cautious because the road might be in the sun and dry, then you go around a curve and hit ice." Both the driver and his passenger were able to get out of the car and were not injured. No names have been released as Norton notes that the two were gone from the scene when officers arrived as they were in a hurry to make it to a doctor's appointment.
Norton adds that there have been many of these ice incidents in the county since the storm. He cautions that with another wet weather system approaching, motorists need to slow down.