New Details On HWY 49 Pileup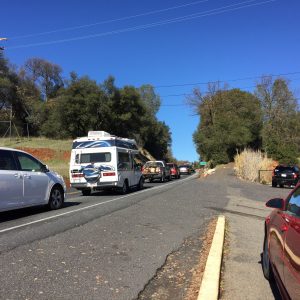 Sonora HWY49 pile up

View Photos
Sonora, CA – The CHP has identified the three people involved in a chain reaction crash in Sonora that brought traffic to a standstill.
The wreck happened Monday at 11:50 a.m. on Highway 49 and the O'Hara Drive intersection. The CHP reports 39-year-old Matthew Foust of Columbia in a 2004 Dodge Ram pickup was in the northbound lane waiting to turn left onto O'Hara Drive.  Behind Foust was 25-year-old Jarod Slade of Sonora in a 1997 Ford F-250 pickup.  The CHP reports 19-year-old Jesus Cramer of Vallecito, driving a 1991 Jeep Wrangler, smashed into the rear-end of Slade's truck, which pushed it into Foust's pickup. Officer Brain Bowman says, "The driver [Cramer], looked away from the roadway just for a second when he looked back up he realized, uh oh, there's traffic stopped. He hit his brakes but he was too close."
No one was injured in the crash.  Officers directed one-way traffic for about an hour while a tow crew cleared the debris.