Arnold Receives Accolades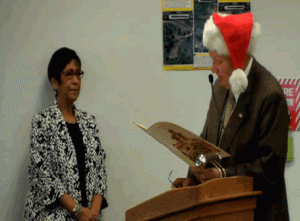 Adele Arnold Receives Certificate From Supervisor Randy Hanvelt

View Photos
Sonora, CA — Outgoing Tuolumne County Chief Probation Officer Adele Arnold was saluted for the notable impact she has had in the county over the past six years.
In 2009 Arnold was appointed as Tuolumne County Chief Probation Officer, and she will be retiring on December 30th. At today's Supervisors meeting Arnold was praised for her leadership, the respect she has statewide, and who she is as a person. Speakers at the meeting included the various county supervisors, CAO Craig Pedro, Sheriff Jim Mele and Judge Donald Segerstrom. Arnold was also handed letters and certificates of recognition from Congressman Tom McClintock, US Senator Diane Feinstein, California Senator Tom Berryhill and Assemblyman Frank Bigelow.
Arnold thanked those in attendance, and said it has been, "a pleasure and an honor" to serve. She has overseen the implementation and roll out of the AB-109 program, overseen the arming of probation field officers, implemented a new probation case management system, and has overseen the planning and construction of the new juvenile hall facility.
Don Meyers has been selected as the Interim Probation Officer. He will remain in the role over the next 4-6 months.