Heavy Snowfall Received Across Sierra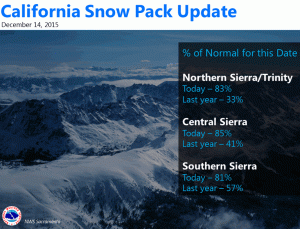 CA Snow Totals

View Photos
Sonora, CA — Many of the highest elevations of the Sierra Nevada received between a foot to two feet of snow over the past 48 hours, according to the National Weather Service.
The agency reports that the snow pack in the northern Sierra is now 83% of average for the date, the central Sierra is 85% and the southern Sierra is 81%. As you can see in the image in the upper left hand corner, the snow pack is currently much higher than this time last year.
Locally, Dodge Ridge ski resort says it received 9" over the past 48 hours and Bear Valley says it received 12".
Clear skies are in the forecast in the short-term, but more precipitation is anticipated to arrive by the weekend.