The Wildcats' Historic Season Ends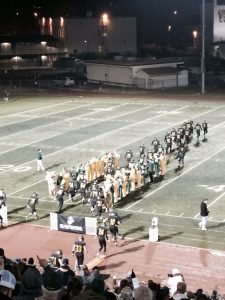 Wildcats play in the Norcal Division IV-AA California Interscholastic Federation State Championship Bowl game at Dunlavy Field in Sonora

View Photos
Sonora, CA — The Wildcats playoff run is over, but the team left its mark in the Sonora High School football history book.
Even with the freezing temperatures, fans filled the stands last night for the first-ever state play-off game at Dunlavy Field, brimming with pride for a team that had come so far.  Sonora High took on the Hanford High Bullpups in the Norcal Division IV-AA California Interscholastic Federation Championship Bowl game. The Bullpups passing attack was too much for the Wildcats to handle as they lost 42-18.
The Wildcats had trouble moving the ball on offense and committed multiple turnovers in both halves of the game.  Riley Garrett started the scoring with a 30-yard field goal. Kane Rodgers hauled in a 30-yard touchdown pass from Sammy Page. Page rushed for a 12-yard touchdown in the third quarter, as well. Unfortunately, the Wildcats were shut out in the fourth quarter.
The Bullpups were extremely fast and were able to move the ball through the air with ease. Although, the Wildcats never gave up, Hanford took over in the second half.  Sonora finishes the season 12-2 with a League and a Section Championship this season as well as playing in this historic Northern California Bowl Game.
A season well done, Wildcats!
*Mark Ferreira contributed to this report.