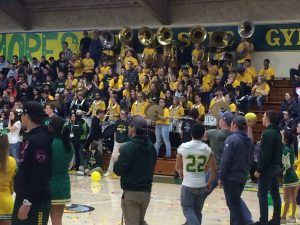 Sonora High Football Rally

View Photos
Sonora, CA – The Sonora High Campus was filled with cheering fans Friday afternoon as the school held a rally to spur the football team on to an historic victory.
The Golden Regiment Band played and the cheerleaders shouted out the school's rally cry. Pictures of the event can be viewed in the left-hand image box.
That energy is bound to overflow this evening as the team storms onto Dunlavy Field to host the Norcal Division Four State Bowl game against the Hanford Bullpups. The Wildcats, the 2015 Mother Lode League champions, enter the game with a 12-1 record. Hanford is also 12-1.
Kickoff is set for 7:30 p.m. You can hear the game live on Star 92.7 as commentators Mark Ferreira and Bogio Ditler  bring you all the action on the gridiron.
The winner of tonight's game will compete against the Division Four AA SoCal Champion for the Division IV AA state title. This is the final season at Dunlavy Field before a planned renovation will commence in 2016.