Mother Arrested After Toddler Found In Woods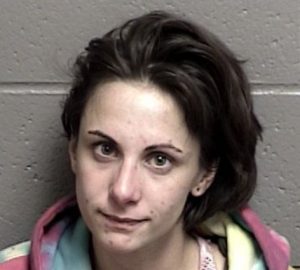 Heather Escandon

View Photos
Mariposa County, CA — Mariposa County Sheriff's officials report a woman riding her horse found a little girl, who allegedly was left in the car overnight by her mother.
The rider was in a remote area of Hites Cove Road in the Sierra National Forest when she spotted a stuck vehicle off the road.  After calling out, the woman found a 3-year-old girl and a little dog inside. The woman reported the toddler was only wearing a t-shirt and was cold to the touch. She took off her coat and wrapped it around the girl before taking off with her on the horse for help.
Once in cell phone range, the woman called the sheriff's department. After talking to the girl, a search began for the mother, which included using a CHP helicopter.  Deputies found the mother, 27 –year-old Heather Escandon of Coarsegold, hiding in some bushes. She told them that the car became stuck on Sunday and she left alone on foot Tuesday to try to get help. After determining that Escandon was on methamphetamine, she was arrested.
Mariposa County Sheriff Doug Binnewies remarks, "We are so relieved…With the recent winter weather blowing in it could have been an entirely different situation if they were both out there for much longer. I believe the resident that found the girl, most likely saved two lives. She's a hero."
Escando is being held at the Mariposa County Adult Detention Facility on a bail of $35,000. She faces felony Child Abuse and a misdemeanor drug charge.
The child's condition was evaluated at a local hospital and then she was released to her father.