Keeping Butte Fire Survivors From 'Falling Through The Cracks'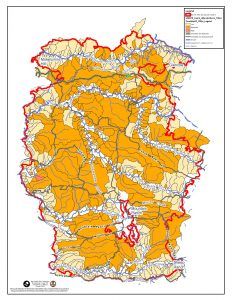 Butte Fire Preliminary 100-year Combined Hazard Map

View Photos
San Andreas, CA — As the wet winter weather approaches Calaveras County and FEMA officials are sharing details on emerging Butte Fire recovery resources.
For example, Butte Fire survivors whose insurance company-provided additional living expenses that are now expiring may be able to tap federal dollars. FEMA officials point out, those who lost homes or sustained damage and registered with the agency may still receive federal assistance for a temporary housing need.
"With just 15 days left before Christmas, there are disaster survivors who may be living with family or friends — they may be eligible to get their own place to live — but we need them to call us," states FEMA spokesperson Victor Inge.
Since Butte Fire recovery efforts began back in September, FEMA has awarded nearly $5 million to provide housing/rental assistance and help cover other needs. According to Calaveras County Butte Fire Recovery officials, almost $600,000 in supplemental state grants have provided similar relief.
Calaveras Recovers
In order to prevent impacted residents from "falling through the cracks," the county is additionally providing safety net assistance through local long-term recovery groups (LTRGs), especially intended for those whose needs are still unmet due to insufficient personal resources, insurance and loan or grant assistance. Calaveras Recovers, made up of representatives from local, nonprofit and faith-based groups, was specifically organized to address these issues for the hardest hit. To learn more about this effort, click here.
With regard to the abovementioned FEMA assistance, Inge directs interested individuals to fax or mail a letter to the agency explaining their current situation; include a document showing proof of the expiration of additional living expenses (ALE) from the insurance company and an update of their permanent housing plan.
FEMA's fax number is 1-800-827-8112. The mailing address is: FEMA National Processing Service Center, P.O. Box 10055, Hyattsville, MD 20782-7055.
For questions, call the FEMA Helpline at 1-800-621-3362; the TTY number is 1-800-462-7585 directly. Those using 711 or Video Relay Service (VRS) should call 1-800-621-3362.