Update: Parrotts Ferry Road Shutdown To Last Several More Hours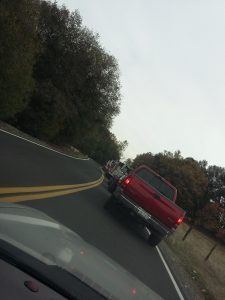 Parrots Ferry Rd. closure with traffic backed-up at about 2:45 p.m. Tuesday

View Photos
Update 4 p.m.: The CHP reports PG&E crews, after inspecting several poles along the Parrotts Ferry Road, found another pole that needs to be replaced , which will result in the roadway being closed another approximately four to six hours. The detour on Union Hill Road remains in place at the Highway 49 and Parrotts Ferry Road intersections to get in and out of Columbia.
Update 3 p.m.: The CHP reports a PG&E crew is working to repair the downed power lines, which were actually live lines drooping over the roadway. CHP spokesperson Nick Norton states that it was a very dangerous situation because if a larger vehicle had gone by, it could have ripped the live lines down. He says, "PG&E does have to do a pole replacement. They did get the old pole out and are working on getting the new one in and reattach the lines — We are looking at a couple of more hours for the roadway to be closed." Norton points to a rotted wooden pole as the reason for the sagging lines.
Update 2:30 p.m.: The CHP reports detour signs are up at Union Hill and both Parrotts Ferry Road and Highway 49.
Original Post at 2:10 p.m.: Columbia, CA — The CHP has closed Parrotts Ferry Road in Columbia due to downed power lines.
The CHP has shutdown Parrotts Ferry Road at the intersection of Seco Road, including the Pedro Y at Highway 49. CHP Spokesperson Officer Nick Norton notes, "Traffic that is on Parrotts Ferry is being diverted down Union Mine Road to Shaws Flat Road and back out to 49. If you're on 49 you have to do the reverse of that detour to get in or out of Columbia." Highway 49 is open to travel.
A PG&E crew is heading to the scene, but Norton says the repairs could take several hours so motorists may want to avoid the area if possible. He adds that what caused the lines to come down has not been determined. We will continue to follow this story and bring you updates as soon as they come into the newsroom.
A special thank you to our community partner Ashley James for sending in the photo.