Sacramento Kings Coming To Calaveras Saturday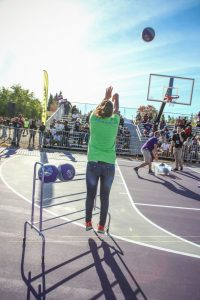 Kings Foundation Community Basketball event image

View Photos
San Andreas, CA — To help cheer Butte Fire recovery efforts, members of the NBA Sacramento Kings organization will travel to Calaveras County this weekend.
An open-to-the-public rally, planned for this Saturday, Dec. 12, will take place as the Calaveras High School Girls Basketball Team host the Middle School Boys "Tip-off Classic" Basketball Tournament at Calaveras High. Besides the Calaveras teams, the event will welcome school teams from Sonora, Linden, Jackson, Toyon, Ripon, Union Hill, Ione, McCaffrey, Galt and Grass Valley. While the tournament, itself, will begin at 8 a.m. and run until about 4 p.m., the Kings will be on hand during the three-point challenge and shoot-out at 1 p.m. While no active players will make the trip, Kings Alumni Henry Turner and the Kings Dancers are slated to be in attendance with plenty of giveaways and photo opportunities, according to the team's front office. (For images from recent Kings community events, click in the left image box).
According to Calaveras County spokesperson Sharon Torrence, who was able to arrange the appearance through a cousin who works for the team, the Kings are supporting the event ahead of the winter holidays as a way to celebrate Butte Fire recovery efforts — and lift the spirits of locals, particularly area youth, as the wildfire disaster affected nearly every person in the county in some way. "Some lost their homes, many had friends and/or family that had to evacuate — it was surely a stressful time for all," she states.
"We're proud to bring some much needed support to the region," states John Jacobs, Kings public relations director. "We know that folks are working to rebuild their lives and we're happy to help bring a day of entertainment and fun directly to people."
Admission to the event is $5 at the door for adults; $3 for children and seniors.