Arrest Made After Sunday Church Burglary Investigation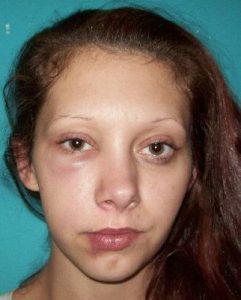 Tiffany Morris, Tuolumne County Sheriff's Office mug shot

View Photos
Sonora, CA — A woman has been arrested for stealing from a local church.
According to the Tuolumne County Sheriff's Office, on Sunday, after reviewing video surveillance, deputies investigating an alleged burglary at Harvest Fellowship Church in Sonora thought they recognized the culprit by the subject's tattoos that were visible in the footage. Sheriff's spokesperson Sgt. Andrea Benson states that the church had earlier contacted the office to report that a female entered the church building and left with a television and a tote bag full of items that included restroom paper products. Deputies subsequently located and confronted a local woman, Tiffany Morris, with the video evidence and she admitted to the burglary.
Morris was arrested on charges of felony burglary, possession of controlled substance paraphernalia, and on a misdemeanor possession of a controlled substance warrant; her bail set at $50,000. Sgt. Benson adds that the stolen items have not yet been recovered and that Morris refused to provide information on their whereabouts.