Sonora Man Arrested Following Chase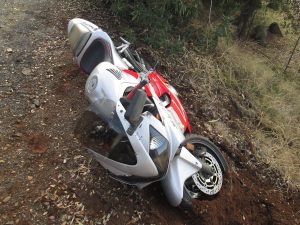 Motorcycle Involved In High Speed Chase

View Photos
Sonora, CA — A man that led deputies on a high speed chase was found to be in possession of drugs.
A Tuolumne County Sheriff's Office deputy attempted to pull over a rider on a Honda motorcycle on S. Mono Vista Road in Soulsbyville due to several traffic violations. The rider, 45-year-old Dale Biehle of Sonora, decided to lead law enforcement on a 10 mile chase that ended on Wards Ferry Road. Biehle laid down the motorcycle, climbed a barbed wire fence, and ran into a field.  Deputies and CHP officers were able to eventually capture Biehle and take him into custody. He was found to be in possession of a large amount of methamphetamine, marijuana, and drug paraphernalia. Biehle's bail was set at $50,000. He was booked into county jail over the weekend and the Sheriff's Office reports that he has since been released from custody.
The chase occurred on Saturday afternoon. Biehle faces several charges, including evading a peace officer and possession of a controlled substance for sale.