Columbia College Cuts Ribbon For Outreach Facility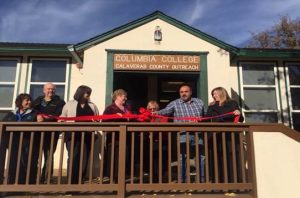 Ribbon Cutting For Columbia College's Outreach Facility In Vallecito

View Photos
Columbia, CA — Columbia College is making it easier for Calaveras County residents to take classes.
The college recently held a ribbon cutting for its new outreach facility at Vallecito High School. Columbia College President Angela Fairchilds says, "We are pleased to establish a Columbia College facility in the county through a partnership with the Bret Harte Unified School District. The opening of this site is testament to the commitment of the college, our Chancellor and the YCCD Board of Trustees to serving the residents of Calaveras County."
Many hours were involved getting the site at Vallecito High ready, and it included adding technology infrastructure and equipment, new carpeting, new signage, extending the parking lot, etc. Upcoming spring classes at the site will include Algebra II, English as a Second Language (intermediate and high beginning), and Introduction to Sociology.
Community members on hand for the ribbon cutting included Calaveras Supervisors Cliff Edson and Debbie Ponte, Calaveras Chamber of Commerce Executive Director Staci Johnston, Calaveras County Superintendent of Schools Kathy Northington, and others.