Update: Rain And Snow Forecast Later This Week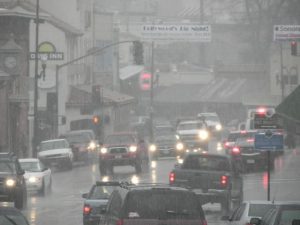 Rain In Sonora

View Photos
The National Weather Service has issued a Winter Storm Watch for the Sierra Nevada from late Wednesday night through Thursday evening.
A strong winter storm is forecast to affect the Sierra Nevada beginning late Wednesday night into Friday. Periods of heavy snow and strong gusty winds will be possible resulting in treacherous travel conditions, across the higher elevations of the mountains. Whiteout conditions will be possible at times, particularly on Thursday.
Total snowfall accumulations of four to eight inches are expected around 5000 feet. One foot-and-a-half to three feet of snow is possible in the higher elevations.
Rain totals of around half-an-inch to an inch-and-a-half are projected for the Central Valley, with the liquid equivalent of two to four inches in the Mother Lode and the Sierra Nevada. There is also the possibility of local thunderstorms on Thursday afternoon. Burns scars from recent fires have the potential for debris flows. Leaves clogging drains may cause local ponding and flooding of roads.
Breezy winds with gusts up to thirty-five mph are expected in the Central Valley. Gusts greater than fifty mph are anticipated along the Sierra crest. This could cause local power outages and downed branches.
A Winter Storm Watch means there is a potential for significant snow that may impact travel.