Update: Christmas Spirit Abundant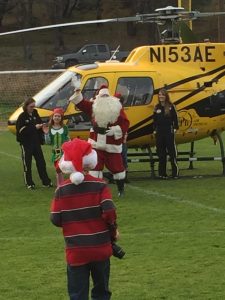 Interfaith Coat Drive and Santa-Fly-in at Standard Park
Update at 3 p.m.:  The totals keeps rising as the Mother Lode shines with its generous donations to the Clarke Broadcasting Cash and Santa Fly-in/Coat Drive for Interfaith. Event Organizer and Star 92.7 KZSQ Morningstar Café Dj Maryann Curmi shares, "More cash donations were hand delivered at today's event, raising the running total to $25,000 plus!! It's all for Interfaith Social Services of Tuolumne County where Director Cathie Peacock and her volunteers operate this non-profit organization on a shoe string budget and do such a beautiful job of helping Tuolumne County residents out in there time of need."
Original Post at 11:55 a.m.: Sonora, CA – Mother Lode community members donated a mountain of money and coats to help those less fortunate this holiday season.
Parents with kids in tow, lined up to see jolly old Saint Nick arrive via helicopter for the coat drive and Santa Fly-in. The tikes got a chance to get their picture taken with the Santa and tell him what they want for Christmas this year.
Early coat counting figures are estimated at over 500. Black Oak Casino Resort handed over one generous $2,000 check at the event. The elves are still tallying up all the donation totals that will allow Interfaith to help those less fortunate in the community. The charity provides food to around 675 Tuolumne County families a month, which equates to around 1,500-1,600 people. Already a radiothon held Friday during the Mornigstar Cafe on Star 92.7 and Big Joe and Bridgette show on 93.5 KKBN has raised $22,000 for Clarke Broadcasting's Cash Drive for Interfaith. Donations are still be accepted, just click the red donation button after clicking here.