Update: An Environmental Hazard Scare In Jamestown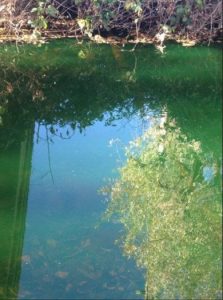 Possible neon hazardous material in Woods Creek

View Photos
Update 5:30 p.m.: Tuolumne County Sheriff's Department spokesperson Sgt. Andrea Benson reports that further preliminary water sample test conducted by Environmental Health and The California Department of Fish and Wildlife from the suspicious spill found that the ph levels were normal.  She notes, "If it was a dye that was used it is not toxic. So, we do not have to worry about that. We should be getting full test results sometime next week."
Update at 4:45 p.m.: Preliminary water sample test results from Woods Creek by Environmental Health and The California Department of Fish and Wildlife found that chemicals such as anti-freeze were not present in a suspicious spill (reported below).
However, Environmental Health, still unable to determine a source for the neon green material found in the creek water earlier today, are now calling it a dye. State officials report that dyes are commonly used for marking large bodies of water and for testing water and septic systems. Investigators subsequently checked with the Tuolumne Utilities District, Justice Center work site, Hetch Hetchy Reservoir, and the Sonora and Jamestown sanitary district sewage treatment centers to determine if any of these agencies had recently used water testing dyes with negative results.  The Tuolumne County Sheriff's Office indicates that Environmental Health will be taking additional samples for further testing and notifying the department of the results. While no timeline for those results was given, Sheriff's Department spokesperson Sgt. Andrea Benson reports that Environmental Health did not issue any warning for the public to avoid the creek water.
Original Post at 3:46 p.m.: Jamestown, CA — Environmental Health officials are on the scene of what could possibly be a hazardous material spill in Woods Creek behind the Sierra Energy Gas Station on Highway 108 in Jamestown.
A citizen notified the Tuolumne County Sheriff's office just before 11:30 a.m. of a neon green substance in the creek's water.  You can view Sheriff's Department pictures in the upper left-hand image box.  Once on scene, deputies, along with the California Department of Fish and Wildlife, went to work to determine where the substance came from and where it might have spread.
Additionally, Environmental Health officials have retrieved samples for testing to determine what the substance could be and whether it is toxic.
To view a map click here.