Over $22,000 Raised For Interfaith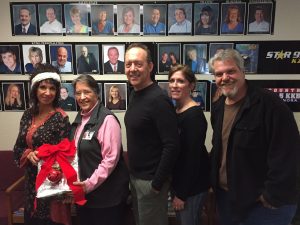 Cash Drive For Interfaith (Maryann Curmi, Cathie Peacock, Mark Grauer, Bridgette Fanucchi and Joe Marshall

View Photos
Sonora, CA — The Mother Lode community donated over $22,000 to help those in need during Clarke Broadcasting's Cash Drive for Interfaith this morning.
The radioathon was held during the Morningstar Cafe on Star 92.7 and Big Joe Bridgette show on 93.5 KKBN. Interfaith Social Services Director Cathie Peacock says the needed donations will help the organization provide food through the winter months.
"It was extraordinary and wonderful," she says.
Interfaith provides food to around 675 Tuolumne County families a month, which equates to around 1,500-1,600 people.
"We are seeing an increase in need in a lot ways, one is older people that who have lost their homes, or are now having to share homes with people, just to make it," adds Peacock. "We also have a lot of young families that are sharing homes, or cars, in order to get by as well."
Interfaith, located at 18500 Striker Court, offers several goods and services, and all of the money raised today will go to purchase food.
Activities move to Standard Park tomorrow morning with Clarke Broadcasting's Santa Fly-In at Standard Park, which includes a coat drive from 9am – noon. Peacock says, "People have been stopping in and asking about coats. We have been telling them to wait until after the coat drive, so people are waiting for them." Gently used coats are appreciated for all ages. Peacock says cash donations can also be dropped off to her during the coat drive.
Santa will arrive for photos with the kids at 11am.
For more information on the event, click here.