Considering Running For Political Office?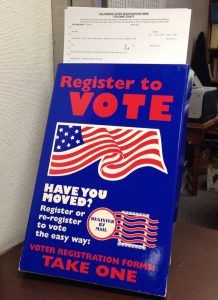 Register To Vote Sign

View Photos
Sonora, CA – The Tuolumne County elections office wants to school those thinking of running for political office through its first Candidate Filing Class.
The class will educate potential candidates on all the information and important deadlines they will need to know in order to participate in the election process. Tuolumne County Elections Official Debbie Bautista shares, "We've wanted to be more proactive and get people who are interested. Those who may be a little fearful of running because they don't know what to do, what qualifications…what forms they need to fill out. So, they get overwhelmed."
The lesson will cover all those topics plus candidate filing, ballot designation rules, writing candidate statements, and requesting voter information. Bautista hopes the class will widen the candidate pool for voters saying, "I'm hoping that if somebody gets an overview of what it's going to take to run, we may take some of the unknown away and they may be more inclined to run for office."
The plans are to provide this free class before every election, according to Bautista. The first tutorial is slated for Tuesday, December 15 from 5:30 PM – 7:00 PM on the fourth floor of the county's administration center on Green Street in Sonora.
To sign up for the class contact Robert Bergstrom at rbergstrom@co.tuolumne.ca.us or (209)533-5964, or Kim Questo at kquesto@co.tuolumne.ca.us or (209)533-6691.