Warm Place In Chilly Weather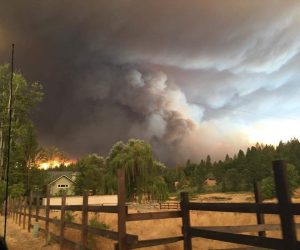 2015 Butte Fire Visible From Glencoe

View Photos
Mountain Ranch, CA – A warm place will open as chilly weather blows through the region, again.
The Calaveras County Sheriff's Department reports that a shelter will be available for the next two days to Butte Fire survivors. A group of volunteers will open the shelter at the Mountain Ranch Community Hall, located at 8049 Washington Street in Mountain Ranch, Thursday and Friday from 6 p.m. until 7 a.m. both days.
While meals and beverages will be provided those making use of the facility are encouraged to bring their own bedding. Additionally, small and medium sized pets are welcome, but must be crated while in the hall. Crates are available for anyone who does not have one.