Butte Fire Recovery: 139 Sites Cleared Of Debris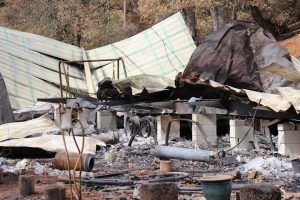 Butte Fire Recovery Debris Removal

View Photos
Calaveras County, CA — 30 debris removal teams are out this week working to cleanup debris left behind from the Butte Fire.
Work is focused this week in the areas of western and central Jesus Maria, Old Gulch, Wendell, Mokelumne Hill, East Murray Creek, Avenue A, Whiskey Slide, Hawver Road and Glencoe.
Of the over 700 properties in the county's debris removal program, 139 have been completed. Erosion control work continues on cleared properties. 733 properties have been cleared of asbestos-containing material. Four FEMA manufactured units have been installed to this point for displaced residents and more are coming.
The Butte Fire burned 70,868 acres. It ignited on September 9 and was contained on October 15.