Brown: California's Top Oil Regulator Resigns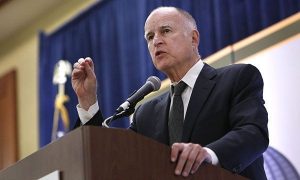 Governor Jerry Brown

View Photos
Sacramento, CA — Governor Jerry Brown announces that the state's top oil regulator has resigned after a year-and-a-half on the job.
Steven Bohlen, supervisor of the California Department of Conservation Division of Oil, Gas and Geothermal Resources, has left for a job at the Lawrence Livermore National Laboratory, where he had previously been employed. Bohlen will continue to serve as an advisor to the department, but he will not be on the payroll.
"Steve brought strong leadership and valuable scientific expertise to the job of improving oil and gas oversight," said Governor Brown. "California will benefit from his continued service as an unpaid advisor to the Division, even as he returns to scientific and national security work."
What led up to the departure is not immediately clear.
Bohlen will be replaced by 59-year-old Ken Harris of Davis. Harris has been the executive officer of the Central Coast Regional Water Quality Control Board since 2012. The position does not require Senate confirmation, and Harris will make $198,500. The Governor's Office reports that he is a registered Democrat.
The listed core mission of the department is to regulate the oil and gas industry with safety and environmental health as the top priorities.