Sand Bags Available In Calaveras In Anticipation Of Storm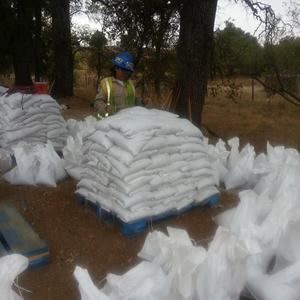 Sand Bags In Calaveras County

View Photos
San Andreas, CA — There are concerns about flooding this Thursday in Calaveras County, notably near the Butte Fire burn area.
The Calaveras County Public Works Department has free sand bags available at several locations. You are limited to 20 bags and must show proof of residency in the county. If you require more than 20 bags you must bring photos of your property that prove the additional need. Rain and heavy winds are anticipated in the foothills and snow at elevations starting at around 5,000 ft. For the latest weather information, click here.
Bags are available for pickup at the Arnold Maintenance Yard on Linebaugh Road, the Jenny Lind Yard on Milton Road, the Mountain Ranch Community Center on Washington Street, the Murphys Fire Station on Jones Street, at the Vista Del Lago Cul-de-sac at 313 Vista Del Lago in Rancho Calaveras and at the Mangili Road Cul-de-sac at 145 Mangili Road in Valley Springs.
For more information you can call the county at 209-754-1674.