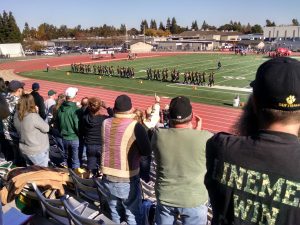 Division V Sac-Joaquin Sectional Final

View Photos
Update at 4:30 p.m.: The Sonora High Wildcats survived a scare in the first half and went on to win their first section championship in 20 years.
The Wildcats struggled in the first half against the Bear River Bruins. In the first five minutes of football, the Bruins scored 14 points and held the Sonora offense scoreless. The Wildcats punched through the end zone only once in the first quarter, but kicked their offense into high gear scoring 14 points in the final three minutes of the second quarter.
In the second half it was all Sonora High. The Wildcats scored 21 points in the second half and the defense held the Bear River Bruins to just 9 points. Kane Rodgers added to his interception total with two in the game. Nate Gookin, and Sammy Page scored on the ground and Brett McClutchen added two more rushing touchdowns. Wyatt Faughnan grabbed two passes from Page to add to the Sonora offensive scoring.
Josh Harris was named the Grocery Outlet Player of the Game. The Wildcats will be off next week as Divisions 1, 2, and 3 play their section finals. Sonora will play again on Dec. 11 against a team and location to be announced December 6th.
The game will be aired by Clarke Broadcasting on Star 92.7 and streamed on mymotherlode.com.
*Mark Ferreira contributed to this report.
Original Post at 4:10 p.m: Elk Grove, CA — After a shakey start, down by two touchdowns early on, the Sonora High Wildcats football team never gave up and ended up walking away with the title of Division V Sac-Joaquin Sectional Champions. The final score was 42-30 as the Wildcats beat the Bear River Bruins in a hard hitting game. Sonora heads to the California Interscholastic Federation (CIF) state playoffs. We will bring you more details on the game from our play-by-play announcers shortly.