Tree Work To Slow Traffic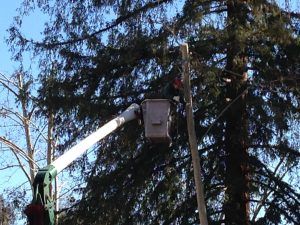 Tree trimming worker

View Photos
Sonora, CA – Passersby will hear the sound of chainsaws in downtown Sonora next week due to tree work that could stall traffic during commute times.
Crews from Modesto based Grover Tree Service will be bringing down one of the remaining redwood trees in Courthouse Square Park. A big crane will be brought in for the work, according to company officials, who say that may create traffic delays as Jackson Street between Washington and Green streets will be closed on Tuesday, Dec. 1 from 8:00 a.m. to 4:30 p.m.
The current Jackson Street bus stop will be relocated but Tuolumne County officials have not given the new location yet, according to company officials, who advise riders to check with the Tuolumne County Transportation Council for further information. With regard to what will be done with the wood, the company says that is still being decided by the county.