Crowds Come Despite Cold To Cheer Santa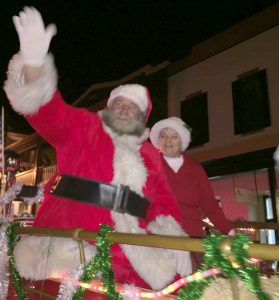 32nd Historic Downtown Sonora Christmas Parade
Sonora, CA — Hundreds lined Washington Street to get a glimpse of Old Saint Nick and were not disappointed.
The crowd braved the frigid temperatures with tikes bundled up tight in blankets, while others wore hats, scarfs and mittens. The chill did not stop the crowd from celebrating as floats with colorful lights streamed by and Christmas music could be heard from the bands marching down the street.  Some even donned their own holiday gear to get in on the act. Pictures of all the festivities are in the upper left-hand image box.
Additionally, tonight is the Angels Camp's Annual Holiday Parade. Caltrans will close Highway 49 from Highway 4 to Murphys Grade Road for the festivities that run from 4 to 8 p.m. with the parade beginning at 5 p.m.