Hearing Set On Contentious Dollar General Store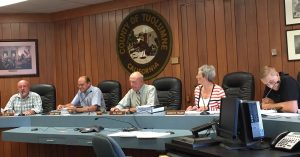 Tuolumne County Planning Commission

View Photos
Columbia, CA – Whether to allow the Dollar General chain to build a store along the main thoroughfare in Columbia has brought heated debate.
Acknowledging the possibility of a big crowd, the Tuolumne County Planning Commission has moved its meeting from its regular site, the county's board of supervisors' chamber in Sonora, to a larger venue in Columbia. The hearing is set for Dec. 16 at the Presbyterian Church – Church of the 49ers, Faith Hall at 11155 Jackson Street with the doors opening at 5:30 p.m.
The planning commission will vote on a Site Development Permit and a Conditional Use Permit regarding the building of the more than 9,100 square foot store along with a 40-space parking lot and 230 square feet of signage.  Included in the signage would be two 97.5± square foot signs, one facing Parrotts Ferry Road and one on Howser Lane, attached to the building and one five foot tall 32 square foot detached sign.