Ahead Of The Winter Holidays, Ways To 'Give Back' Abound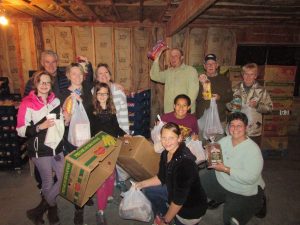 Sierra Bible Church volunteers, about 75 in number, help with packing ahead of the ATCAA Food Bank Thanksgiving Distribution 2015

View Photos
Sonora, CA — Local food banks are cranking up winter holiday operations and welcoming all helpers; even those who can spare only a few hours in December.
At the Amador-Tuolumne Community Action Agency (ATCAA), volunteers of all ages are needed for assorted pre-holiday chores. Chief among ATCAA's food bank programs this month is the holiday food distribution just ahead of Christmas, which anticipates over 1000 recipient families this year. From people with good driving records to help make pick ups or deliveries and envelope stuffers — to food bank sorters and packers, interested parties are asked to call 209 984-3960. Just leave a message for a callback to discuss opportunities as they come up. Food bank staff members say that individuals, families with children, teenagers, community groups and others are all part of the volunteer effort this time of year; in fact, many make it part of their annual "giving back" tradition.
For those with too few hours available, ATCAA welcomes monetary donations to purchase holiday turkeys and essential items. Keep an eye out for ATCAA's red collection barrels that are now out in markets across Tuolumne County. In addition to holiday nonperishables, things like cans of soup, chili and vegetables that are needed all year long are also welcome now.
Pointy Ears Not Required To Help Santa's Express
Several volunteer slots are open for those interested in joining this year's Santa's Express efforts in Calaveras County, which expects to serve about 1,100 families this year, including Butte Fire survivors. Pre-event packing days are scheduled the first four Saturdays in December (Dec. 5, 12, 16 and 19) from 9 a.m. until 4 p.m. Volunteers may work all day or choose a shift from 9 a.m. until to noon, or 1 to 4 p.m. Food sorters are also welcome to work a day or shift during the weekdays from 9 a.m. and 4:30 p.m. These activities are staged at the facility in San Andreas, located at 206 George Reed Drive.
Santa's Express also needs helpers on Dec. 21, the actual day of the event, which takes place between 9 a.m. and 4 p.m. at Mountain Oaks School, in San Andreas, as well as at two other not publicly disclosed locations in West Point and Arnold-Murphys area. While kids are being treated to holiday fun and pictures with Santa, parents and guardians will have the opportunity to sneak away and choose two toys and stocking stuffers for each child under age 14. Walmart gift cards will be available to youths 15 to 17.
The Resource Connection's distinctive red collection boxes are additionally out in the local grocery stores, ready for ongoing winter food bank donations of non-perishables in non-glass containers. Volunteers will be collecting and replacing the boxes regularly, bringing the contents to the food bank for sorting and packing into grocery bags. To contribute to the toy segment of Santa's Express, which, this year is co-partnering for the first time with the Marines' Toys for Tots, the Marines have already placed boxes out to collect new, unwrapped toys. For more information on and/or to participate in any of The Resource Connection volunteer opportunities described above, call the main office at 209 754-1257.
Reaching Out To Those In Need
On a related note, income requirements for recipients to partake of these holiday programs in both counties are generally that they be at 185 percent of the poverty guidelines; for a family of four that would be a maximum of $3,738 per month, which is roughly $40,000 per year.
However, for the Santa's Express Program in Calaveras, The Resource Connection is additionally inviting Butte Fire survivors who have lost everything, no matter what their income, to sign up.
The deadline to register for participation in Santa's Express is Wednesday, Dec. 9. For details, call 209 754-1257. For those interested in being an ATCAA Christmas holiday food distribution recipient, the date is Friday, Dec. 18. However, as advance registration is required, plan to sign up by Thursday, Dec. 2. Forms are available at the ATCCA service center in Sonora, located at 427 North Highway 49, Suite 301. The center is open to the public Monday through Thursday, from 8:30 a.m. until 4 p.m.
Here's to a warmly memorable holiday season ahead, full of opportunities to give and receive, thanks to community efforts all around us in the Mother Lode.