Crash Forces Vehicle Onto Highway 108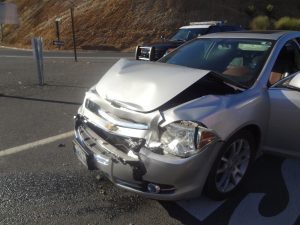 Stockton Road Accident

View Photos
Sonora, CA – The force of a two-car crash on Stockton Road sent one of the vehicles lurching into a Highway 108 travel lane and one driver to the hospital.
The wreck happened earlier this week shortly before 3 p.m. at the Stockton Road and Highway 108 intersection. According to the Sonora Police Department, 66-year-old Janice Turley of Sonora was driving a 2009 Chevrolet Malibu, headed southbound on Stockton Road when she reportedly failed to stop for a 2010 Lexus RX 350, which was being driven by 62-year-old Patricia Lingo, also of Sonora. Lingo was at the stop sign waiting to turn onto the highway when Turley's car rear-ended her vehicle, which pushed the Lexus into the westbound lane of the highway.
Turley, who suffered minor injuries, was taken by ambulance to Sonora Regional Medical Center. Lingo was not injured. Police report neither alcohol nor drugs were a factor in the accident and that the investigation is ongoing.