Mother Lode Thanksgiving Meals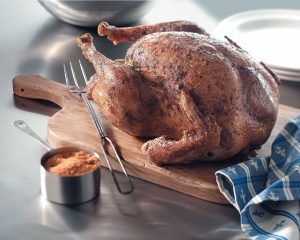 National Turkey Federation

View Photos
For those seeking good food and to share a Thanksgiving plate, there is a place at the table at several local locations.
On Wednesday, beginning at 5:30 p.m., Christian Heights Church and The Heart Rock Cafe hosts its annual free and open-to-the-public "Thanksgiving Meal With All The Trimmings," at the cafe (1 South Washington St., Sonora). Meal delivery and more information is in the event listing or call (209) 532-7305.
Also on Wednesday the Mother Lode Christian School Women's Service Fellowship is hosting a free Community Thanksgiving dinner at Tuolumne Memorial Hall at noon.
On Thursday the Sonora United Methodist Church is hosting a potluck community Thanksgiving Day Dinner. Details are in the event listing here, donations of food and helping hands are welcome. For details, call the church office at (209) 532-4850.
The Sonora Alano Club (19421 Village Drive, East Sonora) is hosting a free dinner on Thanksgiving and in Jamestown the Gypsy Shack is hosting a free Thanksgiving dinner for the homeless at 5:00pm. Blankets, hygiene bags, hats and scarves are also available, view the event listing here. At the Jamestown Community Hall there will also be a Thanksgiving for the Homeless event hosted by Erin Nichols.
Up in Groveland on Thursday the annual Groveland Thanksgiving Dinner runs from 11:30 a.m. to 4 p.m. at the community hall (Main Street, Groveland).
Over in Murphys the 9th Annual Klassen Klassic Turkey Trot at Murphys Community Park is a walk or run to raise money for local food banks. Several area churches also put on a 2pm meal at the Murphys Covenant Church.
From 1 to 4 p.m., Ebbetts Pass men and women of the Moose and community volunteers will serve up a free dinner at Ebbetts Pass Moose Lodge (1965 Blagen Road, Arnold). To donate, volunteer, and sign up for the dinner, call Josh or Cindi Heller at (209) 795-5623.