Ebbetts Pass Now Closed For The Season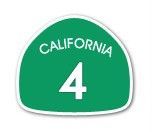 Hwy 4

View Photos
Stockton, CA — Due to recent Sierra snowfall and ahead of Tuesday's incoming storm system, Caltrans has declared a second seasonal mountain pass closure.
Although all of the Mother Lode mountain passes are currently closed, Highway 4 Ebbetts Pass joins Highway 108 Sonora Pass as now being officially closed for the season. While the news from Caltrans came Monday, the decision was made to close it Sunday evening at Gate 1, just west of Alpine. According to Skip Allum, Caltrans district 10 spokesperson, "Historically, this is the earliest closure we have had in the past five years, which took us back to the 2010-2011 season — which also happened on the same date of November 22nd."
Although Highway 120 Tioga Pass is also closed right now, Yosemite National Park officials have not yet declared whether or not the closure will remain in place through the winter season.
Typically, once the passes go into their seasonal closings they do not re-open until close to or over the Memorial Day weekend holiday at the end of May. Last year, however, as previously reported, due to an extremely mild winter, Ebbetts and Sonora passes opened in mid-April; Tioga Pass opened shortly thereafter on May 4.