Tuolumne Chamber Makes Awards Of Excellence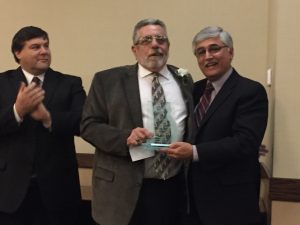 "Citizen of the Year" Dave DeCheney
Tuolumne, CA — The Tuolumne County Chamber of Commerce has recognized individuals who made a difference and businesses that excelled this past year.
The very best of Tuolumne County were honored Thursday night at "The 94th Annual Community Awards Banquet," which has been a staple in the community since 1921.
Dave DeCheney, the owner of Linkline Charter & Tours and area director for Special Olympics of Tuolumne County was given the prestigious "Citizen of the Year" award. The "Entrepreneurs of the Year" were Sean and Kimberly Darr, owners of El Dorado Septic Service; "Small Business of the Year" went to Lindsay Stark, owner of Pet Vacations; named as "Administrative Professional of the Year" was Tammie Power of The Groveland Hotel; "Excellence in Government" accolades were awarded to County OES Coordinator Tracie Riggs; the "Nonprofit Organization of the Year" went to Sonora Area Foundation; "Teacher of the Year" was given to Gregory Smith of Summerville High; "Student of the Year" awards were handed out to William Cook (Tioga High), Keeley Benton (Sonora High) and Benjamin Richardson (Summerville High).
The banquet was held at the Black Oak Casino Resort.