More Than A Few Traffic Delays In Calaveras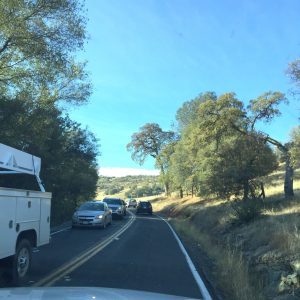 Highway 4 Traffic

View Photos
Angels Camp, CA — Motorists are finding themselves in delays of up to 15 minutes as Caltrans tackles road chores in Calaveras County.
According to Caltrans, drainage work at various points along a 20-plus mile stretch of Highway 4 looms large on the work schedule each weekday between the Stanislaus/Calaveras County Line and Highway 49. As of Wednesday morning over a dozen specialized utility trucks and dozers were busily attending to drainage and erosion measures on the highway between Hunt Road and Appaloosa Way, generating hefty delays during the morning commute. The work is slated to continue through Friday from 7 a.m. until 6 p.m. (To view images, click in the upper left image box).
Utility work continues each weekday on Highway 4 between Upper Moran Road to just east of Big Trees State Park from 6 a.m. until 5 p.m. and is also likely to cause ten-minute waits for motorists.
Along Highway 26, 15-minute delays are possible between Happy Valley and Lower Dorray roads as Caltrans attends to miscellaneous chores there daily from 7 a.m. until 4:30 p.m.
Nightly grinding work on Highway 12 between east of Pine Street and Lime Creek Road, and Highway 26 between Nove Way and Double Springs Road runs through Friday morning. From 7 p.m. until 7 a.m., expect at least ten-minute setbacks in both spots. Similar impacts should be anticipated through Friday on Highway 26 during shoulder work between Burson Road and Heinemann Lane from 9 a.m. until 3 p.m.