Thieves Target Tioga High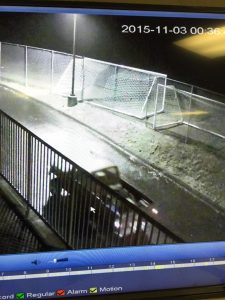 Tioga High Surveillance Camera Image, Nov. 3, 2015

View Photos
Groveland, CA — Today, the Tuolumne County Sheriff's Department reports it has active units out investigating a theft from Tioga High School.
According to Sheriff's spokesperson Deputy Rob Lyons, during the incident, which occurred on Tuesday evening, Nov. 3, a video camera and recycling were stolen, totaling over $500. Principal Ryan Dutton states that, in addition to wanting to catch the person or persons responsible, the school is pursuing the matter to protect its recycling program, which, due to strong community support, raises between $200 and $300 per month during the school year and up to $800 per month over the summer.
The funds go a long way to help the students, Dutton says. Detailing the uses, he states, "We have used it for academic programs, sports uniforms, classroom equipment…some new calculators for science. We have used it for our student relief fund, which helps kids buy prom dresses…shoes for sports." The perpetrator, in addition to making off with a load of recycling materials, also stole one of the school's camera. As Dutton describes it, "We have a new video camera surveillance system with about 12 cameras…this person cut the video camera that tapes the upper part of campus, where the recycling is…and took the recycling right after." As the unit, which cost more than $300, has obvious cut cables attached to it, he says it would be hard for a thief to sell.
Fortunately, other cameras in the surveillance system captured initial arriving and departure images of the vehicle involved. It is described as a dark red, older model Toyota pick up truck with only the "YO" showing on its tailgate. Dutton believes there might have been subsequent thefts from the recycling center before the activity was detected and reports that leads on the vehicle are already coming in. To view the vehicle images, click the slideshow link in the upper left image box. Anyone with information is asked to contact school officials or the sheriff's department.