An Early Holiday Gift For Skiers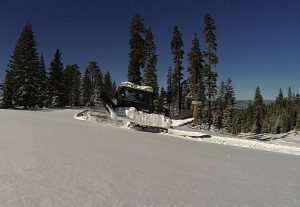 Dodge Ridge

View Photos
Pinecrest, CA — Dodge Ridge has announced it is opening early for it 2015-16 season with the recent help from "Old Man Winter".
After receiving 32 inches of snowfall from the three storms that blew through the region and more snowfall on the way, facility officials decided to open on Wednesday, November 25.  Dodge Ridge officials note that this marks the 10th time in 40 years that the slopes have opened before the Thanksgiving Holiday.  Resort spokesperson Sean Waterman describes the conditions, saying, "We currently have snow from top to bottom at the resort. About a half foot to nine inches of snow at the base and close to two feet at the summit so, everything is white right now."
Last year, the third year of the drought, the slopes were only open for a month. However, resort officials report the latest statistics match up well with the actual snowfall in the El Nino year of 1997/98 when there was a total of 475" inches of snow at the base of the mountain and the runs were open for five months. Waterman adds more than 70% of the mountain will be accessible on opening day with lifts starting up at 9 a.m.