Black Ice Causing Morning Crashes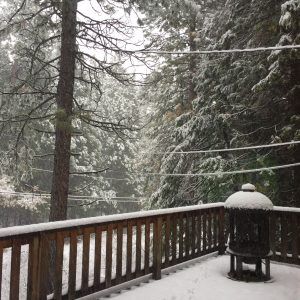 Snow in Arnold
Sonora, CA — The precipitation left over the weekend has resulted in slick roads to start the workweek.
Black ice caused a truck to spinout on Highway 108 near East Sonora. A vehicle also hit black ice and went off Phoenix Lake Road near Belleview Creek Road. In Calaveras County, a vehicle went off Pool Station Road near Bar 7 Ranch Road.
Caltrans has been out putting sand on the area highways this morning, but you will still want to use caution, especially on the side roads.
Yesterday's storm system brought hail and thunderstorms to the foothills and snow to the higher elevations. For the latest on chain restrictions, click here. Of note, Dodge Ridge received around 6 inches of snow over the past 24 hours.
PG&E reports that 13 customers are without electricity in Angels Camp this morning. It is due to a damaged power line. Those customers should be restored by noon.
There was also a rare tornado in Central California on Sunday, reported in Denair, near Modesto. It brought down several trees and powerlines, and damaged gas lines.
The storm system has moved out of northern California and clear skies are anticipated for the remainder of the week.