More Work Under Mono Way To Bring Delays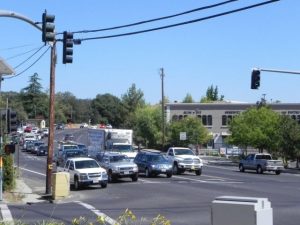 Mono Way at the Greenley Road intersection

View Photos
Sonora, CA – Motorists should plan for weekday delays when installations under a Sonora secondary road resume next week.
Beginning next Monday, Nov. 16, AT&T crews from Lompoc-based Dts Telecom are returning after a three-week delay to initiate the final half of a two-week project that began Oct. 27, during which they will finish installing pipe and fiber optics at approximately 40 locations underneath Mono Way, between Greenley and Peaceful Valley roads as well as under Sanguinetti Road.
According to Dts crew lead Luke Overman, plans were to complete the work over two consecutive weeks but the crews ran out of cable, as AT&T diverted those resources to higher-priority Butte Fire recovery efforts in the burn areas.
Overman says the work by Dts will take place every weekday from 7 a.m. until 5 p.m. and that while some of the activities will require intermittent set ups of one-way traffic control, there are no plans to shut down any roadway stretches at any time.