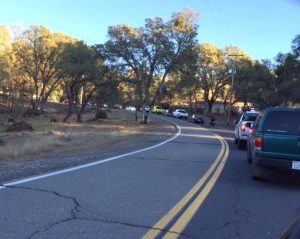 Back up due to Hwy 49 cement truck crash, Nov. 12, 2015

View Photos
Update at 5:30pm: The CHP reports the roadway has reopened to traffic. There is no word on injuries regarding the driver of the cement truck.
Update at 5pm : CHP officer Toby Butzler reports that the time of closure for Highway 49 has been extended by about a half hour. He says, "They already have the truck out of the roadway. Due to the weight of the cement drum they had to remove it from the vehicle…So they are working on that now. The plan is to just get that removed to the side of the roadway and come back and retrieve it in the morning."
Update at 3:10 pm: The CHP reports a tow crew is on the scene.  CHP spokesperson Rebecca Myers states that currently the estimated time for the roadway to reopen is two hours. However she stress that could be extended if crews encounter problems righting the truck. CHP officers are diverting traffic to Parrotts Ferry Road and O'Byrnes Ferry Road.
Update at 2:50pm: The CHP reports traffic is getting backed up on the highway. There CHP reports the roadway will be blocked until about 5 p.m.
Original Post at 2:30pm: Carson Hill, CA — The CHP has shut down Highway 49 north of New Melones in the Carson Hill area following a cement truck crash. The Big Rig is on its side across all lanes of the highway on a blind curve. The CHP reports officers are directing traffic. We will bring more details as soon as they come into the news center.