Racing Circles Around Retirement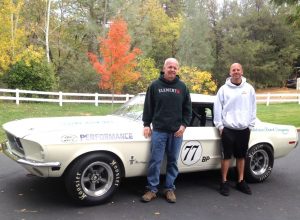 Larry Cornish and son Trevor with their race car, Nov. 2015

View Photos
San Andreas, CA – A longtime leader at Mark Twain Medical Center is gearing up for retirement.
With exactly a week to go before winding down his career as the Mark Twain Medical Center COO, Larry Cornish admits to being raring to go, at least on one level.
Immediately after his last day next Thursday, Nov. 19, Cornish confides, "First thing, the Friday after I retire — we're heading up to a racetrack…above Sacramento, and we're going to do some time on the track…that's my first day away." He shares that retirement will free up time to work on his golf game as well as fuel a great passion — building, fabricating and painting vintage vehicles and muscle cars like Mustangs and Cobras. Come December, he plans to race one of the latter with son Trevor behind the wheel.
Cornish says that he is vacating his post with some misgivings. "I've often said that I think I have the best job in Calaveras County because of all the people that I've met and all the things that we've been able to accomplish at the hospital as part of my leadership role," he admits. Cornish still has fingerprints on everything happening for at least another year, as he puts it. "I was talking to somebody earlier…about all the projects we have going — and there are probably about 12…that we're right in the middle of — they are all great projects for this community," he states.
"The new medical centers in Valley Springs and Angels Camp — those are 19,000-square foot, two-story buildings that are going to be there to provide primary and specialty care for our community — that is going to have a huge effect on our whole surgical area," Cornish enthuses, adding that another focus will be a new endoscopy-GI center on the San Andreas campus.
Moving Forward, Looking Back
Cornish ponders for a moment when asked to reflect back upon his career. Ticking off milestones, he answers: "Since I have been here we have opened nine ambulatory care centers throughout Calaveras County — rural health…specialty care clinics — we built the new hospital…have a new heart center…a new cancer center."
A Mother Lode resident since 1988, Cornish recalls that he and his wife Diane always wanted to live in Murphys, so much that after becoming "disenchanted" over a 19-year career in astronautics at Boeing, they pulled up their southern California roots, moved and bought a house before even having jobs.
Hired shortly thereafter by Mark Twain Memorial Hospital, initially as a materials manager, Cornish says he saw it as "a great opportunity to get engaged with the community…to do something good." All these years later, he says they consider Murphys, where they also own a small vineyard, a favorite vacation spot as well as their home.
"There's so much to do in this area," Cornish remarks, sounding every bit the current vice-president of the Calaveras Visitors Bureau, which he claims is his favorite of all the boards on which he has served over the years. With plans to serve out his current term with Destination Angels Camp, with regard to future board stints he simply states that he will "play it by ear." Prolifically active in this area, he remains one of the Friends of the Fair and notes with pride it was during his tenure as chamber of commerce president in the 1990's that Leadership Calaveras formed.
Cornish was recently feted at a retirement celebration at Camps Restaurant, where many shared stories about his accomplishments and tenure at what they referred to as "Larry's Hospital." (To view an image of Cornish and his family at the event, click the slideshow option in the upper left image box.)