Over $22,000 Raised For Butte Fire Victims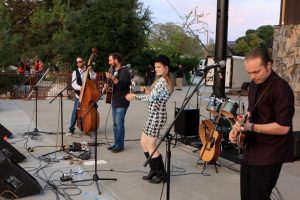 Phoenix Festival At Ironstone

View Photos
Murphys, CA — The organizers of the recent Phoenix Festival held at Ironstone Vineyards have tabulated all of the money that was raised to help those impacted by the Butte Fire.
The event featured music from five local bands, performances and workshops by local storytellers and jugglers, and a ceremony led by the Cub Scouts thanking fire crews. There was also a raffle that featured a signed guitar from Hall and Oates and several silent auction items donated by local businesses. In total, $22,406 was raised. Event co-chair Owen Ridings was very pleased with the final amount, saying "That's the beautiful thing about the community we live in, in Calaveras and Tuolumne counties, is that there is so much mutual support and reciprocity for events like this."
The festival was attended by by approximately 1,000 people, and it was staffed by thirty adult volunteers, 20 high school volunteers, and members of Ironstone's team.
The money has been handed over to the Calaveras Community Foundation to be placed in its Disaster Relief Fund. If you would like to contribute further, you can visit the foundation's website by clicking here.