Weather Keeps Passes Closed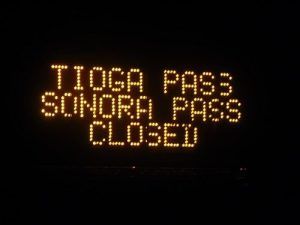 Passes Closed

View Photos
Sonora, CA — The chilly temperatures and an approaching storm, due to hit sometime Sunday into Monday, has Caltrans and Yosemite officials keeping mountain passes closed to motorists.
The recent storm that blew through earlier this week shut down Highway 108 Sonora Pass at Kennedy Meadows, Highway 4 Ebbetts Pass at the Mt. Reba turnoff and Highway 120 Tioga Pass at Crane Flat. Yosemite officials say they received up to nine inches of snow in some areas and the cold temperatures have created dangerous ice patches on sections of the roadway.
Caltrans spokesperson Rick Estrada, who oversees Sonora and Ebbetts passes had this update, "There is no plan to open them Friday due in large part, to another large weather system coming through." He adds there are also costs involved in opening the roadways and explains, "Before we can open the roadways to the public, our maintenance crew go through and they inspect the bridges, they look at the culverts, they make sure the roads are clear….so, there's a cost and time associated with the openings."
To find out the current road conditions click here. Additionally, to view road information anytime go to the mymotherlode.com home page and click on traffic.