Manhunt Related To Attempted Burglaries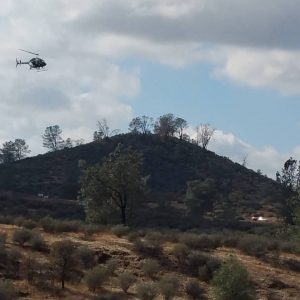 Deputies search for Joshua Willis off Highway 120/108 near Chinese Camp

View Photos
Jamestown, CA — One man has been arrested and another remains at large following a crime spree that began early this morning with three attempted break-ins.
Tuolumne County Sheriff's spokesperson Rob Lyons tells Clarke Broadcasting that deputies arrested 31-year-old James Wood of Sonora following a stakeout at a residence in the Star Mobile Estates on Jamestown Road. The trailer had been under surveillance by the deputies, who were looking for 31-year-old Joshua Willis, wanted on three property crime felony warrants. Willis and Wood suddenly arrived at the scene in a white Chevy S-10 pickup truck. According to Lyons, after spotting the deputies, Willis jumped into another truck parked at the residence, a white Ford F-150, and sped off. The patrol car gave chase.
The chase, which went through Jamestown and Chinese Camp, ended at the intersection of Highway 120 and 108, where Willis jumped out of the truck and took off running into some brush. Lyons says, "There was a short foot pursuit, but it was called off for officers' safety reasons. It was believed that he had a weapon, and once he was in the brush, it wasn't safe. So then we set up a perimeter and used helicopters and dogs to search the area but were unable to locate him." Deputies located a loaded handgun at the scene. Willis remains at large.
Lyons states that detectives believe Willis and Wood were involved in three early morning attempted burglaries, due to statements that led to Wood's arrest at the trailer park. Lyons also shares that the Chevy truck fit the description of the pickup used in the break-ins. As previously reported, the three attempted thefts took place at the C&C Mini Mart in Jamestown, where allegedly, they unsuccessfully tried to steal an ATM machine; reportedly, they later tried to break into Ed's Bar in Twain Harte and the Mi-Wuk General Store. Lyons could not confirm if evidence from the crime spree was found in either the truck or on Wood.
Anyone with any information on the whereabouts of Willis is asked to call the Sheriff's Department at 209-533-5815.