The Global Belief Project Is Locally Founded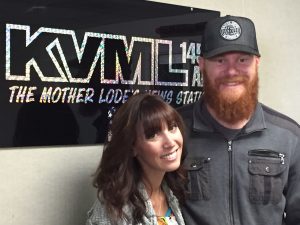 Taylor and Jake Radovich

View Photos
Jake and Taylor Radovich were both raised in Tuolumne County. Next month, the married couple along their two children, ages six and four, will be moving to Uganda.
Jake and Taylor were Wednesday's KVML "Newsmaker of the Day".
The Radovich's founded the Global Belief Project in 2013. But what is it?
After years of education and experience working in the water industry, Jake felt prompted to use his skill set to help others in need around the world.
Being lead by their Christian faith, the Radovich family ventured on their first mission trip to Uganda in November of 2013, bringing 50 water filtration systems thus supplying water to approximately 5,000 people in villages, hospitals, schools, prisons, and churches.
Since that time, Global Belief Project has brought clean water to approximately 20,000 people in 4 different countries through the distribution of water filters, installation of rain water harvesting systems, repair and maintenance of boreholes, and now has a full-time presence in Uganda.
According to Jake, "Throughout the country, the wells are broken and no longer provide water due to neglect and irregular maintenance, forcing the people relying on them to search for an alternate source. This often results in communities of people collecting water from rivers, streams, or lakes, which are usually contaminated, exposing the people to harmful and potentially deadly diseases and forcing families to spend their days walking long distances to retrieve water rather than working or going to school. We are determined to transform the broken and deserted wells into the fountains of life they once were. We have repaired six wells in the Jinja and Iganga districts of Uganda. Each of these repairs were relatively simple and inexpensive, each costing less than $200. Each well that had previously been broken for more than one year, now provides clean water to villages of up to 1,500 people every day."
This Saturday, the first annual Global Belief Gala will be held at the Sonora Opera Hall. The semi-formal event is already sold out. When asked why this event is so popular, since it has never happened before, Jake credited the couple's local upbringing and their personal connection with friends, family, church and neighbors, who all believe in what they are doing.
According to Taylor, "We feel that we will be safe in Uganda. We are not brave or courageous or anything like that. It's all through faith. Our children will be attending a small, international school with other transplants. Their parents are missionary parents or doctors on medical missions, etc."
Through Global Belief Project, the Radovich family looks forward to bringing clean water, providing education, and sharing the gospel of Jesus Christ with the nations for many years to come.
If you would like to make a donation or find out more information, log on to https://globalbeliefproject.org
The "Newsmaker of the Day" is heard every weekday morning on AM 1450 KVML at 6:45, 7:45 and 8:45 AM.