Angels Camp Police Mourn K-9 Comrade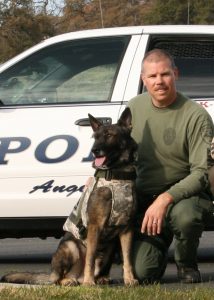 Sgt. Steve Poortinga and K-9 Kain of the Angels Camp Police Dept.

View Photos
Angels Camp, CA — The Angels Camp Police Department says one of its K-9 comrades responsible for helping apprehend numerous criminals has died.
Police K-9 Kain, 6, was reportedly suffering from complications related to a sudden infection affecting his internal organs. Although his condition was immediately brought to the attention of his veterinarian and doctors tried for several days to stabilize and treat him, Kain passed away Friday in the company of his handler, Sgt. Steve Poortinga.
A member of the K-9 corps since the beginning of 2012, department officials say that in addition to assisting officers in apprehending criminals, Kain located illegal narcotics for seizure and was involved with drug sniffs on school campuses. As part of community outreach events with Sgt. Poortinga, Kain also participated in public demonstrations.
The police department states that Kain will be greatly missed, as he thoroughly enjoyed protecting and serving the community at large; also sending sincere condolences to the Poortinga family and thanks to the staff at Angels Camp Veterinary Hospital.