Only Moderate Injuries In Highway 26 Crash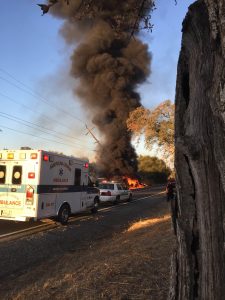 Highway 26 Crash

View Photos
Valley Springs, CA — A vehicle burst into flames in Calaveras County over the weekend, and the driver was able to escape with only "moderate" injuries.
CHP Officer Rebecca Myers reports that 67-year-old Timothy Sloan of Valley Springs was driving a 2005 VW Phaeton on Highway 26 west of Olive Branch Drive. For unknown reasons, Sloan allowed the vehicle to veer across the eastbound lane and onto the dirt shoulder. The vehicle then collided with a PG&E utility pole. The regulator banks that were attached to the top of the pole became dislodged and fell onto the vehicle, igniting a fire. Several vehicles pulled over and bystanders were able to help Sloan escape from the vehicle. Sloan was later transported to Mark Twain Medical Center to treat moderate injuries.
Officer Myers notes that the accident could have been "much worse." The collision is still under investigation so anyone that witnessed it is asked to call the San Andreas CHP office at 209-754-3541. Officer Myers notes that drugs or alcohol are not believed to be a contributing factor. It happened at 7:45am on Saturday.