Mind Matters' New Leader, For Now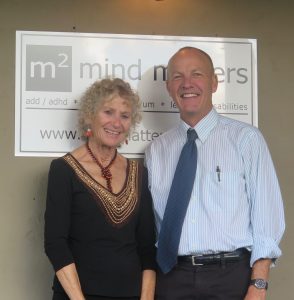 Trudy Lackey, Executive Director and Dr. Ryan Thompson is the clinic's founder and Medical Director of Mind Matters

View Photos
Murphys, CA – A week after losing its latest Executive Director, Mind Matters has appointed an interim leader.
The non-profit Mind Matters lost its last Executive Director after just three months on the job. As reported last week, former Stanislaus Union School District Superintendent Wayne Brown stepped down from the post citing "pressing family problems."
Taking over, for now, is Trudy Lackey, one of the non-profits board member since 2009.  Recently, she has been a substitute teacher at Sierra Ridge High School. "I have long been a strong supporter of Mind Matters and its mission to help individuals and families to cope with the consequences of autism spectrum issues, attention deficit hyperactivity disorder (ADHD/ADD), and learning disabilities," says Lackey. "I think with my close association and knowledge of its programs and staff I will be able to continue its development without interruption."
A  Calaveras County resident since 1992, Lackey has been the Executive Director of the Calaveras Community Foundation and has been the manager of the Columbia College Calaveras Center. Additionally, she was a member and also served as President of the Vallecito Union School District Board of Trustees.
Lackey has agreed to serve as executive director until at least to the end of the year to allow the board to find a permanent replacement. As to whether Lackey would like the post permanently, she says, "That is not my intent at this time."