Groveland Community Leader Remembered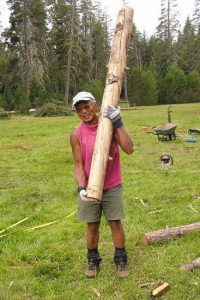 Frank Oyung, working on a project in Spicer Meadow, 2010

View Photos
Sonora, CA – Many hope to pass from this life doing what they love. For Groveland's Frank Oyung who had recently celebrated his 84th birthday it was hiking and enjoying the great outdoors with friends.
So shares his daughter Frances, who came down from her home in Medford, Ore., when she heard that her father had been airlifted from Crane Flat to Modesto Memorial Hospital after experiencing medical duress while on last week's local Sierra Club chapter "Thursday Hike." He died Saturday at Modesto Memorial Hospital.
"My Dad was a very dedicated outdoors person and for…more than 20 years he had been leading hikes with the Sierra Club," she reminisces. Perhaps feeling his age, a bit, she adds, "He retired from being a leader just a few months ago but he was participating on the hike from Tuolumne Grove to Carlon Falls on the Tuolumne River and started having a difficult time." Surrounded by friends, including two nurses, she says he was being well-cared for in the mountains he loved. While initially, it appeared he was having a stroke, it turns out he had suffered a brain hemorrhage.
Born and raised in Grass Valley, Frank was one of six or seven children, according to Frances. His parents, Chinese immigrants, worked on grounds at Empire Mine, now a state park, where his father and grandfather were caretakers and where he was actually born. Drafted at 18, he served in the Army Signal Corps in Germany during the Korean War; before retiring over 20 years ago to Groveland, he spent about 30 years as a forester with the US Forest Service.
A regular participant at the Chinese Camp 10K until recently, Frances jokes that her dad stopped skiing, "Mostly because of the drought, I think." A familiar sight riding his bike around Groveland, Oyung served on the Resource Advisory Board for the Forest Service and on Tuolumne County Planning Commission for many years as well as on the Sierra Club chapter executive committee. The last few summers, she says he enjoyed working part-time as a hiking guide at San Jose Family Camp, leading hikes several times a week along the Middle Fork of the Tuolumne River and places on the forest in Yosemite.
She recalls Frank's reputation as the local "can man" around Groveland, where he set up and every week serviced drop off spots, hauling the cans each month to Modesto, where he collected the deposits for local causes. Among his pet projects, Frances shares, "He was really involved in the skateboard park and fundraising for it, because he knew that kids needed something to do in a town like Groveland."
Along with his daughter, Frank leaves behind son Alec, of Richmond, two grandchildren and his former wife Catherine, of Medford. Frances says funeral arrangements are still being made; these are being handled by Terzich and Wilson Funeral Home in Sonora. The family additionally plans to dedicate a park bench in his memory.